---
Welcome!
If you are interested in classes starting in
January 2022, please call us at
989-739-7955 or email neadancemi@gmail.com
to set up an appointment.

Please join us for our Winter 2022 original production
The Little Prince
(details below)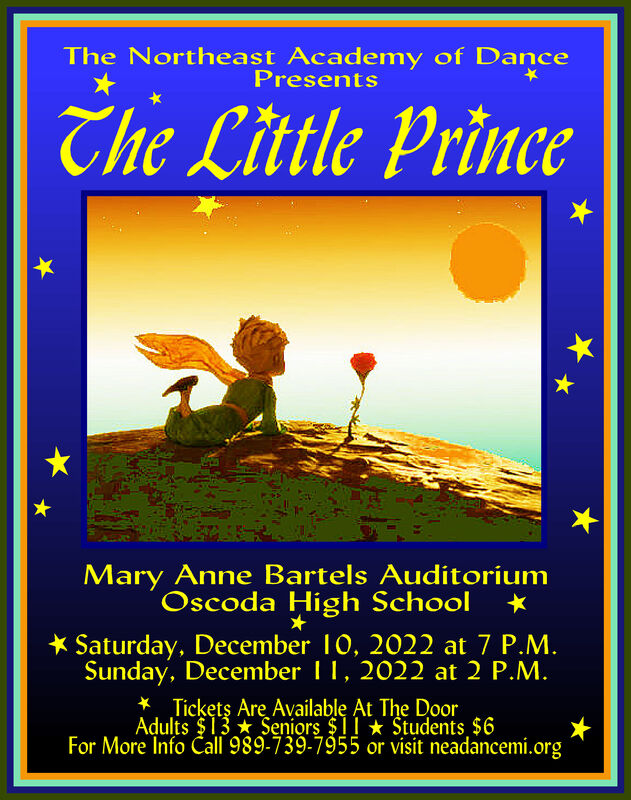 Professional School of Dance, Founded and Directed by
Giuseppe Canale & Scott Heinrich

Located in Oscoda, Michigan, just a few hours north of Detroit, NEAD was established in 1997 by co-founders Giuseppe Canale and Scott Heinrich to provide Northeast Michigan with an additional cultural and artistic resource focused on the performance of and instruction in ballet and associated forms of dance. Our guiding philosophy is to use these opportunities of performance and instruction to allow each prospective student to explore their own individual abilities and talents for expression and communication through the performing art of dance. This individual journey for each student can lead them along any one of several fruitful and worthwhile paths: establishing and nurturing a love, understanding, and respect for the time-honored art forms of ballet and modern dance; the kindling of the spirit of appreciation for all forms of art in general; guiding each student along the road to improved physical health through the focus and attention placed on the condition of one's body; establishing or rebuilding a strong foundation of self-esteem or self-worth in each student; and for those so inclined, the opportunity to dance with an amateur or professional dance company. It is our aim and hope that NEAD enriches the lives of each student and their families in these and so many other ways.

The Northeast Academy of Dance is a professional school of dance specializing in ballet and modern dance, located on the former Wurtsmith Air Force Base in Northeast Michigan. The school has about 60 students, and has attracted students locally, as well as statewide, nationally, and internationally. The facility includes two spacious dance studios equipped with state-of-the-art sprung flooring, large windows, and air conditioning.

Students have been accepted for the American Ballet Theatre and School of American Ballet summer programs, as well as the Jacqueline Kennedy Onassis School at ABT, the Joffrey Ballet School in Chicago, the National Ballet School of Canada in Toronto and the Rudra Bejart School. Professional company placements include the Royal Danish Ballet, Bally's Jubilee in Las Vegas, the Sarasota Ballet, Ballet Memphis, Richmond Ballet, ABT II, Houston Ballet II, North Carolina Dance Theatre, Signature Dance Ensemble, First State Ballet Theatre.. College placements have included The University of Michigan, Western Michigan University, Central Michigan University, Grand Valley State University, Hope College, Oakland University, Alma College, University of Nevada Las Vegas, and the University of Ohio Akron. We are also very proud of our student Kylend Hetherington who was featured in the lead role as Billy, in Broadway's touring company production of Billy Elliot.

Welcome to Oscoda - and The Northeast Academy of Dance!


---
---
---